Upon reading the Holy Bible, one realizes that this divine book conveys a message of love, peace, harmony, and forgiveness. Yet delving further into this holy book, one realizes that it extends a unique and nonpareil  message which provides healing and innate peace to all those who walk in the steps of Lord Jesus Christ.
To shine light on this invaluable message, it is important to review a biblical incident according to (Mark 10: 51-52). It says, "'What do you want me to do for you?' Jesus asked him. The blind man said, 'Rabbi, I want to see.'  'Go,' said Jesus, 'your faith has healed you'. Immediately he received his sight and followed Jesus along the road."
This incident indicates that the Holy Bible preaches that "faith in Jesus can lead to great and ineffable miracles" that  are definitely comprehensible as they keep various mundane impediments, hurdles, and diseases at bay.
Another important incident that reflects the powerful effect of faith is the incident when a woman who had been subject to bleeding for twelve years came up behind Lord Jesus and touched the edge of His cloak. She said to herself, " 'If I only touch his cloak, I will be healed.' Jesus turned and saw her. 'Take heart, daughter,' he said, 'your faith has healed you.' And the woman was healed at that moment.'' (Matthew 9: 20-22)
A further incident is when Lord Jesus raises a widow's son in a town called Nain as he beheld a man who had died was being carried out. He was the only son of his mother, and she was a widow. And when the Lord saw her, He had compassion on her and said to her, "'Do not weep.' Then he came up and touched the bier, and the bearers stood still. And he said, 'Young man, I say to you, arise.' And the dead man sat up and began to speak, and Jesus gave him to his mother". (Luke 7: 11-17)
The Holy Bible abounds with incidents indicating that "faith" leads to divine miracles. In life, we beg and plead with the Lord on why and how things happen, or even about life events in the future. We worry and have doubts that the Lord will come through for us. But what if we have blind faith that the Lord is going to be there for us? Trust that God Who created the Earth will lead us, and guide us throughout life.
The Holy Bible views faith as the foundation for healing: "Your faith has healed you." When people turn to Lord Jesus in prayer trusting His absolute power to heal them, a new set of answers to one's situation is found. Faith is a dynamic reality, so when people decide to act because of faith, they commit themselves to service to others, renewing their strength and well-being. 
Actually when Jesus says "Your faith has healed you." It is clear that it's His power that heals. Furthermore, the faith that Lord Jesus has the divine power to heal will actually instill this divine power of healing exercised by the Lord and a miracle happens at once.
In our world, there has recently been a concomitant escalation of violence, wars, diseases, and even starvation. People have been driven adrift from faith and replaced it by lust for the artificial veneers of life. It is important to reverse this dismal situation that affects every walk of life, including climate degradation, by resorting to faith in Lord Jesus' absolute authority to heal our world and turn our Earth into a flowery garden where peoples can live in peace, love, and harmony.
It is a plea seeking Lord Jesus' mercy to restore His love and peace at a time when faith that such a healing will take place is firm. Lord Jesus, may our faith in You will heal our universe from all the prevailing illnesses.
Images, Video or Audio
Images
Images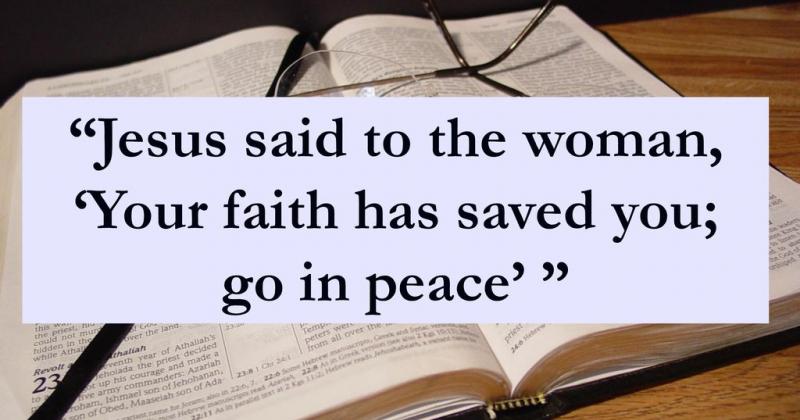 Source
By Munir Bayouk/ en.abouna.org