When the Almighty Lord created humans and gave them free life, certain laws were followed and established which ensure maintaining the happiness of humanity marked by prosperity and progress.
Yet, abuse of this divine freedom has led to complications that persistently caused irreversible damage to humanity, wrought havoc, and led to complications that defame human nature and shove it into abysmal depths of sin.
In this regard, every now then press carries reports referring to "same-sex union" as" marriage" at a time when parliaments convene in several countries on this issue, and release statements condoning this issue under the justification that this may be classified as "freedom of choice".
Questions have regularly been raised about the validity of what referred to as "same-sex marriage or union " with many views that have been surfaced condoning this option on the basis of personal freedom, while others strictly opposed it on the basis that it violates the rule of life and negates the sanctity of a relationship that goes hand-in-hand with the divine will.
The question that arises is can same-sex union be classified as marriage? Definitely not. It is merely an abnegation of the norm of life and a violation of the divine rule of life. Such a violation does not bode well for humanity as its mortal ramifications are clearly seen in the world.
Since the early days of life on Earth, God created Adam and then created Eve. This far-reaching step was intended to inspire humanity to follow the right path in life which implicitly defines marriage as incorporating "a man and a woman" or rather "a husband and a wife".
Marriage, as defined by the Almighty God, enables humanity to continuously maintain a life characterized by integrity and dignity, as well as by going in compliance with divine blessings which enables humans to multiply and consequently develop Earth by doing whatever possible to ensure the betterment of life on this planet.  
The" same-sex union" contradicts the nature and purposes of marriage because it cannot achieve the natural purpose of union, namely to cooperate with God in the creation of a new life.
On March 15, 2021, the Congregation for the Doctrine of the Faith stated that the Church does not have the power to bless same-sex unions, as such 'unions" cannot "be considered licit".
His Holiness Pope Francis had earlier made a clear-cut remark on this thorny issue by stating that, "Marriage is a sacrament. Matrimony is a sacrament. The Church has no power to change the sacraments as the Lord has instituted them... But marriage as a sacrament is clear, it is clear." This clear view expressed by His Holiness the Pope explicitly invalidates any same-sex union and negates its characterization as marriage since this violates the relevant divine rule.
On his prayer intention for the month of June 2021, Pope Francis invited the faithful to pray for those preparing for marriage. He stressed that getting married and sharing one's life is something beautiful. He said: "On this life-long journey, the husband and wife aren't alone, Lord Jesus accompanies them." This implies that no matter what difficulties can a married couple find in life, Lord Jesus comes in due time and helps remove all impediments and obstacles that stand in the way.
Therefore, it is implicitly accepted that marriage, being one of the Holy Sacraments, is definitely and strictly between man and woman, thus becoming husband and wife. This holy union is a divine blessing which marks the start of a new life and goes hand-in-hand with the divine will to ensure a blessed life that produces children, or rather a new generation blessed by a holy union.
The firm bases of a sound marriage is strongly corroborated by the first miracle performed by Lord Jesus Christ when He was at a wedding in Cana of Galilee in the company of His Mother, Blessed Mary. The Holy Bible states that "On the third day there was a wedding at Cana in Galilee, and the mother of Jesus was there. Jesus also was invited to the wedding with his disciples," and during the wedding, Lord Jesus performed his first miracle by changing water into wine. (John 2:1-11) This miracle provides cogent evidence that marriage is only intended to be between man and woman and that it is divinely blessed.
The Holy Bible says, "A man leaves his father and mother and is joined to his wife, and the two are united into one." (Ephesians 5:31)
Furthermore the Holy Bible glaringly brands same-sex unions as a form of immorality as Paul writes in (1 Corinthians 6:9-10): "Or do you not know that wrongdoers will not inherit the kingdom of God? Do not be deceived: Neither the sexually immoral nor idolaters nor adulterers nor men who have sex with men nor thieves nor the greedy nor drunkards nor slanderers nor swindlers will inherit the Kingdom of God."
A blessed life starts by carefully following the teachings of  Lord Jesus  as explicitly mentioned in the Holy Bible, the Word of God, which applies to all walks of life. Marriage is strictly "a father and a mother" who start a healthy life as this goes in line with the divine teachings and enriches societies with goodness and blessings.
Images, Video or Audio
Images
Images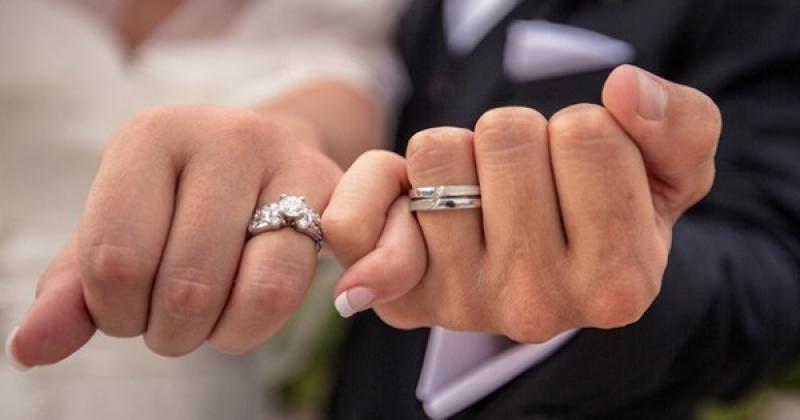 Source
By Munir Bayouk/ en.abouna.org :