St. Padre Pi repeatedly referred to the Rosary as a "weapon" to be used only against spiritual enemies, not human opponents.
St. Padre Pio, was frequently quoted as saying that the Rosary was his "weapon," as with the Rosary, we can fight the powers of Satan which foster sin, hatred, and war. It is the weapon of the Church in proclaiming unity and peace while serving as the scourge of the devil.
With St. Padre Pio stating that, "the Rosary was his 'habitual prayer' and his 'weapon' against the powers of hell," he prayed the Rosary every day and did so out of a love for Blessed Mother Mary. It is important in this regard to recall the Holy Bible's relevant verse, "Put on the armor of God so that you may be able to stand firm against the tactics of the devil. For our struggle is not with flesh and blood but with the principalities, with the powers, with the world rulers of this present darkness, with the evil spirits in the heavens." (Ephesians 6:11-12)
The world is currently experiencing hard times and unprecedented challenges on every front which includes wars, famine, climate change, poverty, and diseases whose ineffable darkness weighs heavily against the entire humanity.  It is important in this respect to realize that it is difficult to go through life without the help of Blessed Mary. This prayer is so powerful and effective because it apparently was born out of the strife, sacrifice, and persecution of the early Church martyrs.
We cannot lose sight of the fact that the rosary is first and foremost a powerful spiritual weapon. It has been credited with some of the greatest triumphs in history. When we pray the Rosary and spend time in the presence of Lord Jesus and Blessed Mary and become freer for the worship of God and love of neighbors.
Blessed Mary was portrayed as the mother of Mankind whereby according to the Second Vatican Council, Jesus, through his declaration on Calvary, extended Blessed Mary's spiritual motherhood to the entire human race.  So according to the Holy Bible, "When Jesus therefore saw his mother, and the disciple standing by, whom He loved, he said unto his mother, Woman, behold thy son!"
Actually Lord Jesus was referring to John, telling Mary to consider him her own son. By telling John to see Mary as his own mother, Jesus is ensuring that Mary is the mother of mankind Who comes to help all those who sincerely seek Her assistance. (John 19:26)
Let us pray the Rosary, be close to our Mother, blessed Mary, and seek Lord Jesus Who died on the Cross for the salvation of humanity.
Images, Video or Audio
Images
Images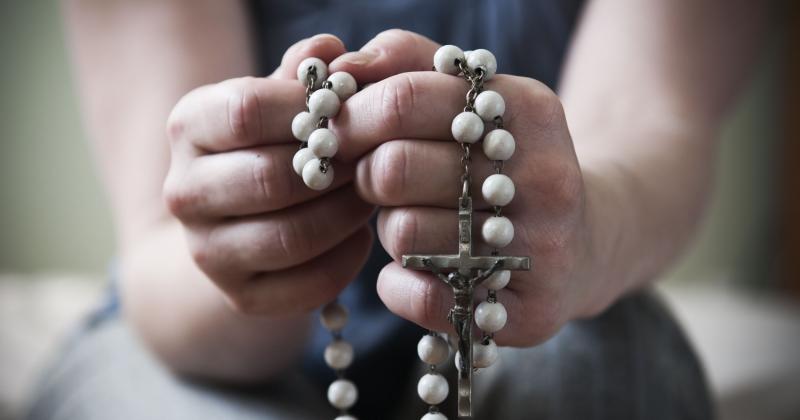 Source
By Munir Bayouk/ en.abouna.org