The canonization of Angelo Giuseppe Roncalli and of Karol Wojtyła was an unprecedented event of great interest to many people, not only Catholics, and it will certainly go down in history. Never before has a Bishop of Rome simultaneously proclaimed the sainthood of two of his predecessors, both very popular figures and very close to our own time: only nine years have passed since the death of Pope John Paul ii and 50 since since that of John xxiii. There was an additional exceptional circumstance: Francis invited Benedict xvi to the solemn liturgy. The Pope emeritus took part with natural simplicity. He was visibly surrounded with warmth and gratitude and was tenderly embraced by his successor.
Thus, on the eve of the celebration, the announcement of "the day of the four popes" had already spread through the media. The phrase is undoubtedly a concise and effective summary, but it does not capture the essential: the understanding and the interpretation of the holiness of two figures who are now formally venerated in the Church and who will therefore now be more widely recognized beyond her visible confines. It seems, in fact, that the Christian exemplarity of these two priests, bishops and popes — their successor summed up their lives in this way — was truly grasped in its deepest core in the sentiment of the faithful, quite beyond the unquestionably exceptional resonance of the event.
Of course, the authentic sense of every formal proclamation of holiness always rests in the exemplary life of the witnesses of Christ, but the canonization of figures so well known and loved as these seems programmatic. Their successor Francis expressed this in a meditation on the biblical Readings which was striking in its ability to point to the bare essentials. Like the Apostle Thomas, "that man, [who was] so straightforward", the two new saints who intercede for the Church and for the world knew how to recognize in the wounds of Christ — the Pope said — "the enduring sign of God's love for us". And they were courageous men who bore witness to the goodness and mercy of God.
Roncali and Wojtyła, two symbolic figures united by the Council, lived as Christians through the modern age and the tragedies of a dreadful time: the useless carnage of the World Wars, the impious inhumanity of Nazi and Communist totalitarianism, the terrible darkness of the Shoah, up to fundamentalism and the globalization of practical materialism in the early years of the new century. That is why these two men, in whom faith in God shone forth, have been recognized as saints. In John xxiii's docility to the Spirit, in John Paul ii's service to the family as the irreplaceable heart of humanity, in accord with the essential vision which Francis summarized as the legacies which two Popes have left us.
Images, Video or Audio
Images
Images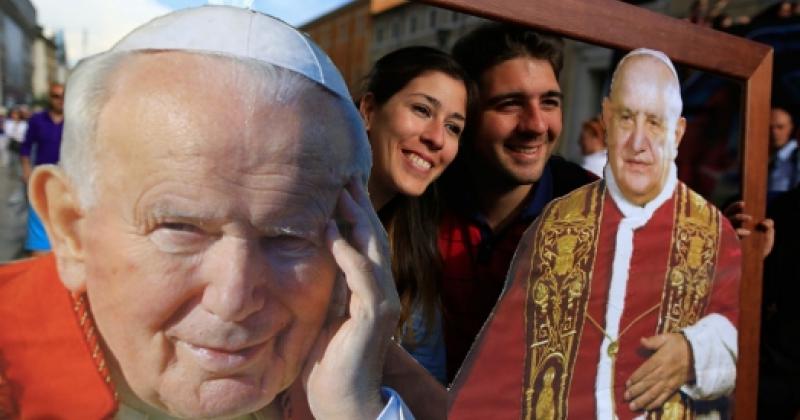 Source
L'Osservatore Romano