With wars and a state of instability erupting in various parts of the world culminating in the outbreak of the Ukraine-Russian conflict, people of good will focus attention on the children who lost their parents and homes as well as were deprived of the opportunity to live a normal life by being bereft of attending schools, thus wrecking the prospects for a bright future in the melee of non-ending conflagrations.
Children are the most adversely affected members of society in wars because once they lose parental support, they definitely lose their future and foresee a bleak future with some of them taking up menial jobs while losing their prospects for proper education that  would extricates them from the imbroglio of begging, poverty, or from being trodden over by the unending problems of need and poverty.
His Holiness Pope Francis, the successor of St. Peter and the messenger of love and global peace, has drawn attention to this mammoth problem that continues to grow while causing irreversible damage to the future of the new generations.
At a time when His Holiness the Pope said that the spate of conflicts around the globe today was effectively "a piecemeal Third World War" while condemning the arms trade and "plotters of terrorism sowing death and destruction, he said: "Humanity needs to weep and this is the time to weep."
At the outset of November 2022, the Pope released his prayer intention for November, by inviting everyone to pray for the millions of children who are suffering around the world, especially for those who are homeless, orphaned, and being victims of war.
This vehement and sincere call is intended to alleviate the suffering of children "who are our fault", according to him. As he called for praying for children who are suffering due to rejection, indigence, poverty, and conflict around the world, he pointed out that "there are still millions of boys and girls who suffer and live in conditions very similar to slavery," while underling the fact that these children "are not 'numbers' but 'human beings with names and an identity that God has given them'."
It is a pity that such marginalized children live without schooling, without a family, without healthcare. The Pope lamented this situation saying, "It is a cry that rises up to God and shames the system that we adults have built."
Actually by noticing that all children have the right to access basic services and to be able to feel the warmth and love of a family, it is important to take exigent action by not allowing them any longer to feel alone and abandoned.
Press reports indicate that one billion children currently live in multidimensional poverty, namely by being bereft of basic access to education, healthcare, shelter, food, sanitation, or water with an estimation that 153 million children are orphans.
The Holy Bibles states that Lord Jesus Christ strongly loved children saying, "But Jesus called the children to him and said, 'Let the little children come to me, and do not hinder them, for the kingdom of God belongs to such as these'." (Luke 18:16)
Furthermore, Psalm 127:3-4 states:"Children are a heritage from the Lord, offspring a reward from Him. Like arrows in the hands of a warrior are children born in one's youth."
It is important to expeditiously take His Holiness Pope Francis' views relevant to children into consideration, and to pray seeking Lord Jesus' unwavering help since the children are the treasures of the future.
Images, Video or Audio
Images
Images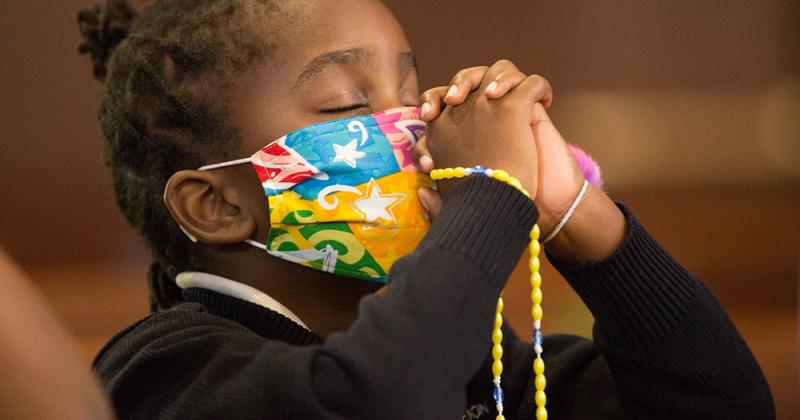 Source
By Munir Bayouk/ en.abouna.org