December 31, 2022 was a day that engulfed the Christian world and the Catholic world in particular with sorrow and sadness. It was the day that marked the passing away of one of the most renowned theologians and highly reputed popes, namely Emeritus Pope Benedict XVI.
It was a day in which deep grief and joy were interlocked. As people were getting ready to celebrate the advent of the new year 2023, such joy was overshadowed by this sad event which aggravated hearts with a nonpareil state of shock.
Deep sorrow and sadness overshadowed the hearts and minds of peace-loving people who have always viewed the late Benedict XVI as a messenger of peace, harmony, and common living. The theological and intellectual treasures he left to humanity will remain a landmark to be remembered and viewed as a source of inspirations to the new generations.
"The passing away of Emeritus Pope Benedict XVI from this life sends contrasting notes of sorrow and gratitude in one's heart. This Pope had a treasured ministry being a superb theologian as he continued throughout his long life to be an effective teacher of the noble and sublime faith of Christianity.
The Catholic Center for Studies and Media in Jordan (CCSM) has mourned the death of Pope Benedict XVI and recalled the achievements and teachings that he carried out, stating that "as he is well-known for his education, knowledge and humility, it is also the humility that he demonstrated clearly through his resignation in 2013, renouncing earthly powers and handing over the helm of 'St. Peter's ship' to his successor, Pope Francis."
The CCSM statement adds, Pope Benedict XVI "represents a humble religious figure who added numerous teachings relevant to the relations among peoples. He also defended human dignity and basic rights, the most important of which is religious freedom which he described as a 'crown of all liberties'."
In an editorial written by CCSM Director Fr. Dr. Rif'at Bader, he states, "Today we remember this Pope who moved to the  brightness of heaven with the last day of this year, namely 2022, to thank the Lord for His blessings and gifts by sending to the church this personality who was known for his wisdom and knowledge, not only for his educational standard, but also for his writings that are considered today in Catholic universities as among the most important documents being taught for all theological courses."
Among the greatest legacies of Benedict XVI in terms of theology and doctrine are his books, "Introduction to Christianity" and "Eschatology: Death and Eternal Life" and his "Jesus Trilogy" for a well-educated general public.
It is also important to pluck some of the best quotations from such a humble and generous soul. Here are some of them:
--"Seeing with the eyes of Christ, I can give to others much more than their outward necessities; I can give them the look of love which they crave."
--"The consciousness that, in Christ, God has given himself for us, even unto death, must inspire us to live no longer for ourselves but for him, and, with him, for others. Whoever loves Christ loves the Church, and desires the Church to be increasingly the image and instrument of the love which flows from Christ.
--Mary is the woman of hope…Mary is a woman of faith… Mary is a woman who loves… Mary has truly become the Mother of all believers. Men and women of every time and place have recourse to her motherly kindness and her virginal purity and grace, in all their needs and aspirations, their joys and sorrows, their moments of loneliness and their common endeavors. They constantly experience the gift of her goodness and the unfailing love which she pours out from the depths of her heart.
While offering profound gratitude to Lord Jesus for the gift of Pope Benedict XVI and his ministry, we pray pleading with our Lord to grant him eternal rest."
POPE BENEDICT XVI... REQUIESCAT IN PACE ET IN AMORE
Images, Video or Audio
Images
Images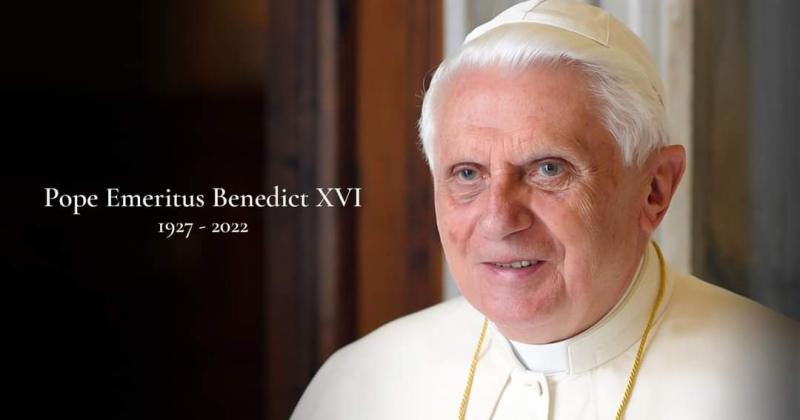 Source
By Munir Bayouk/ en.abouna.org