Food security has all the times been one of the focal points of discussion in various sessions and at the highest levels. Attainment of food security has always been a chronic issue that needs to be reviewed and tackled on regular bases in order to ensure social peace and stability.
It light of the wars erupting in various parts of the world and the industrial revolution spreading in several parts of the world, which is associated with climate change, the issue of food security has become an exigent and a cardinal issue that needs to be handled expeditiously.
Reports from various parts of the world indicate that the eruption of social violence is concomitant with spikes in food prices which burdens limited-income families and wreaks havoc on social stability. Yet, what is worse than this are food shortages that are felt following the prevailing drastic climate change and wars erupting in various parts of the world.
 It is of great importance for different world countries to map out plans designed to ensure food security bearing in mind that restricting the arrival of food to populations in conflict to ensure military gains can be characterized as another kind of war crime waged against peoples with "empty stomachs".
When praying "Our Father", this divine prayers states, "...Give us this day our daily bread..." Actually bread has all the times been the most important part of meals as it is consumed with various or rather most kinds of foods."
Lord Jesus Christ said, "I am the bread of life, he that cometh to me shall never hunger, and he that believeth in me shall never thirst."
While firmly believing that Jesus is the bread of life one never hungers whereby with the Holy Communion, the body and blood of Lord Jesus, received during Holy Masses one is assured  never to hunger but to be filled with the divine spirit of sufficiency, love and peace.
Images, Video or Audio
Images
Images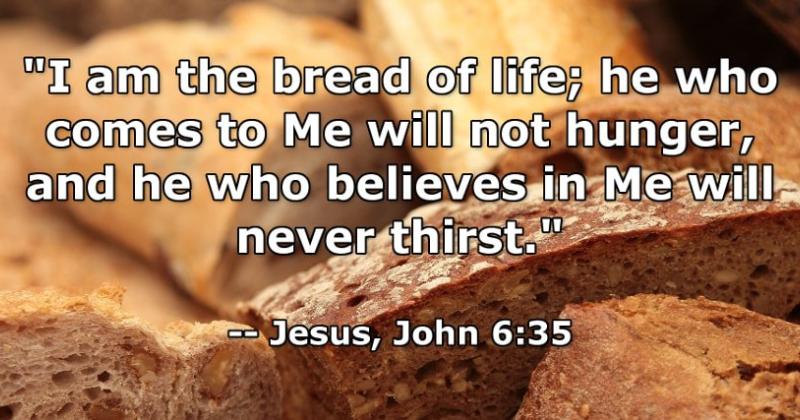 Source
By Munir Bayouk/ en.abouna.org