Never before has a Pope said publicly, without mincing words, that "the mafia is excommunicated". Pope Francis made the declaration from the pulpit, in the land of the mafia. Following his visit to the frontier of Lampedusa, an island inundated by refugees and immigrants, and the journey amongst the unemployed of Sardinia, Francis' current visit has taken him to the fringes of the country, in Calabria. It is the 'geography' of a pope who favours the less fortunate, as yesterday he visited Cassano allo Jonio to show that he is close to those who live in a land plagued by organised crime and encourage those in attendance with signs of hope and prospects.
In the prison of Castrovillari, Bergoglio embraced the father and two grandmothers of Cocò Campolongo, the three-year-old burned alive in an 'ndrangheta ambush, and during the mass held on the plains of the village of Sibari, he deviated from the text prepared for the homily and declared that "this evil must be fought and distanced", inviting the Church to commit itself even more in this regard. He said, with potency, that as many as there are that follow this path, "the mafia is excommunicated".
Yet this is not the first time that Francis has spoken of the mafia. Last March he met two families, victims of the mafia, at a meeting promoted in Rome by "Libera", with father Ciotti. On that occasion he asked the "men and women of the mafia" to convert and change their lives "so that they do not end up in hell", "which is what awaits if they continue on this path… The power, the money you have now through illicit business, from many mafia crimes, is bloody money, it is bloody power and you cannot take it with you to the next life". This time the appeal, clear and strong, and with reference to excommunication, was declared by the Pope from the altar in the land of the mafia. Resolved in his choice, the message echoes that famous address by John Paul II in the Valley of the Temples of Agrigento, in 1993.
For Bergoglio, speaking out against organised crime is nothing new after his years at the episcopacy in Buenos Aires. In 2009, father Pepe di Paola, one of the priests he had assigned to the parish in the shanty town of Barracas, received death threats from drug traffickers. The future Pope told the priest: "If something is to happen to one of mine, I want them to kill me". He removed the priest to protect him and defended him publicly saying that the appeals to fight crime and narcotics came from him, the archbishop.
"The Gospel contains answers for us all, even against the 'ndrangheta" said the bishop of Cassano and secretary of the CEI, Nunzio Galantino. Today Francis reiterated this not only to those fighting for change, but also to those "sleeping consciences", which are complicit.
Images, Video or Audio
Images
Images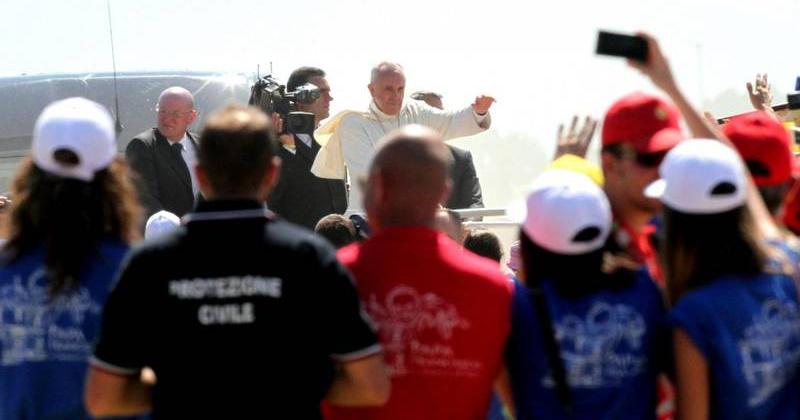 Source
By Andrea Tornielli