In the wake of the Continental Synodal Assembly of the Catholic Churches of the Middle East which convened its sessions on February 13-17, 2023 in Beit 'Anya, Harissa, Lebanon, Patriarch of Babylon of the Chaldeans His Beatitude Cardinal Louis Raphaël Sako penned a reflection in which he shed light on the Christians of the East referring to them as a perpetual people who made history at a time when they are" a treasure that needs to be preserved."
In his relevant Arabic-language article Cardinal Sako says, "We are the indigenous people of Earth. We have been here before the emergence of divine Christianity and we stayed there for 2,000 years." Stressing that in the modern time the Christians spared no effort in contributing to construction and creativity, he noted that they used to transform feelings of anxiety, fear, and uncertainty about the future due to wars and conflicts into prayer because they believed that history is divinely ordained, "I will take refuge in the shadow of your wings." (Psalm 57: 1)
He continues, "It is true that in the past 50 years, and due to the many challenges, and in the wake of a feeling of insecure, many of them resorted to emigration which served as a solution to their problems. The result is that Christians have become a numerical minority in their land, but they are a qualitative minority with their culture, skills, and devotion to their homelands, and they still represent a sign of hope for their peoples."
Stressing that based on their patriotic duty, the Churches defended the Christian presence, he lamented the state's failure to deal with the concerns of citizens and to entrench mutual respect as well as human and national partnership, especially in dealing with the difficulties Christians suffer as they were not given special attention that would protect their rights which prompted the national and Christian elites to emigrate.
Reflecting on the Synodity expressed by His Holiness Pope Francis, he says it is not confined only to the Catholic Church, but it is designed for all Churches and all believers in God. Adding that it is imperative to walk together in some form, he says, "We, Christians, have to eliminate fear and integrate into our countries because it is our destiny based on the human, faith and national horizon to serve our countries and our citizens away from delusions, selfishness and isolation.
Cardinal Sako blames the authorities for failing to attain social cohesion that would instate life based on equality and citizenship, yet he calls for establishing mutual respect among the various components of the society that would give hope to Christians and ensure them a bright future free from any form of inequality.
Cardinal Sako refers to the Christians of the East as "a treasure" that needs to be preserved. Actually this is a valid argument because the Middle East Christians have all the time been serving as a key factor of stability, enlightenment where they live, while playing major roles in the progress of their societies in various fields. Among the most prominent fields include education, culture and arts, social affairs, politics, economics, and humanitarian services.
 As the Christian schools are widely acclaimed as the best and most desirable educational institutions, the Christian missionaries launched the first ever educational institutions in the region including schools and universities. These educational institutions refined their respective societies and entrenched a culture of modern civilization.  Another field to mention is the field of health where the Christian missionaries built hospitals and health centers that helped heal the ill supplemented by divine wishes of quick recoveries. These services are the cornerstone for the advancement of societies.
It is important in this regard to recall His Holiness Pope Francis' relevant statement he made in on November 21, 2013 when he said  that the Catholic Church will not accept a Middle East without Christians, who often find themselves forced to flee areas of conflict and unrest in the region. He said: "We will not resign ourselves to imagining a Middle East without Christians."
He also said on July 10, 2018: "There is also the danger that the presence of our brothers and sisters in the faith will disappear, disfiguring the very face of the region. For a Middle East without Christians would not be the Middle East."
Images, Video or Audio
Images
Images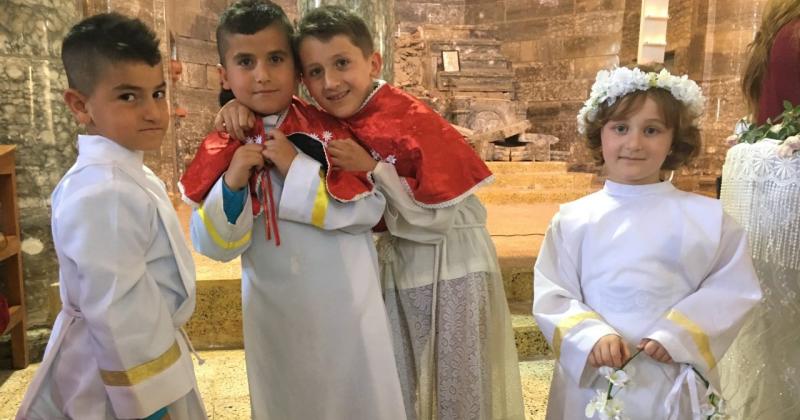 Source
By Munir Bayouk/ en.abouna.org