Caritas Internationalis has launched and interventional plan worth $200,000 to stop the spread of the Ebola virus. The epidemic of the hemorrhagic fever, which is often lethal, has already affected 398 people in the Guinean capital Conakry alone, according to data provided by the World Health Organisation (WHO). The virus has claimed 264 victims. As the number of reported cases continues to rise, Caritas in collaboration with UNICEF, has moved to intensify preventative measures.
"First of all we must make great efforts to educate the population". Father Matthieu Loua is the director of Caritas in Conakry. Also responsible for coordinating interventions to prevent the spread of the virus, he was one of the most outspoken advocates of this initiative: "We have 60 volunteers working in the four prefectures most affected (Faranah, Kissidougou, Gouéckédou and Macenta) but it is not enough. We must involve at least another 50".
In collaboration with Unicef, Caritas sends these volunteers out to cities and villages to explain how to prevent the spread of the virus. Above all, hygiene is crucial: the volunteers so far have handed out chlorine and soap to 14 thousand families. There are then a number of rules to follow, such as not touching the bodies of victims. The WHO has criticised "persistent opposition" from the local population in following these measures. In local culture, especially in the forest regions, funeral rites dictate that the relatives and other mourners should be close to the deceased."
"In the rural communities, it is not easy to change the habits of the people", confirms father Loua, "and this is why we need more volunteers, so that they can dedicate more time to educating the population and preventing the spread of the virus."
Many Catholic churches in Guinea have placed a basin of water and chlorine at the entrance for churchgoers to use and wash themselves before they enter to worship. All catechists, priests and religious leaders have been encouraged to familiarise the population with the precautions they need to take to avoid the spread of the virus. The Archbishop of Conakry, Vincent Coulibaly, also urged churchgoers to follow preventative measures during the recent Easter sermon, seen by over 16 thousand Christians.
The epidemic is largely concentrated in the Guinean capital Conakry, but some 31 cases of Ebola have been reported in Sierra Leone and another 9 cases in Liberia. Until now, however, the World Health Organisation has not imposed any travel restrictions on the countries affected by the virus.
Images, Video or Audio
Images
Images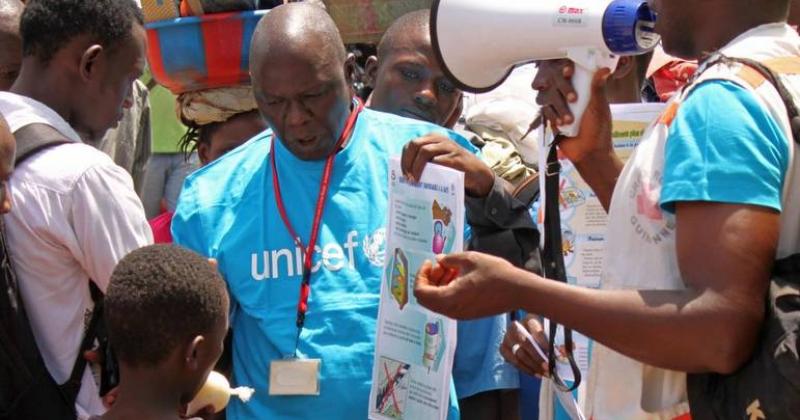 Source
By Davide Demichelis