Father Jose Maria Montiu, Ph.D. in Philosophy, offers this article on the coming of Advent, which begins on Sunday, November 28. "Christ is coming! This is the arrow of Love!" he says.
The Advent season can be compared to an archer, to a child shooting arrows of love at the heart. This being an especially beautiful romantic liturgical time, this classic image of love is appropriate. The whole Season of Advent tells us one thing: Christ is coming! This is the arrow of love!" Christ is coming! Every day we are its target! We are its target repeatedly, as the murmur and whisper of the turtledove. And thus for almost a whole month! The Love of Loves is coming, good Jesus is coming. Love is coming! It's an arrow of love, a sweet electrical discharge so that our hearts become vibrant, desirous, joyful. Come, Lord Jesus! Almost a whole month spent favoring especially such desires! An arrow of love that leads us to make room for Christ in us, to welcome Him with affection and the love of a mother, with an affectionate heart. Christ wants to be received as a child. May Christ be born and grow in our hearts; may we participate in the Most Holy Virgin's divine maternity. May this most beautiful reality, so desirable and enchanting, so fantastic and wonderful, be our radiant Christmas.
On making their nest, the turtledoves remove the small branches that don't fit well, that lack elasticity, that have little consistency, etc. They just keep the small branches that easily fit the nest they are busy building. In making a cradle for Jesus, a pious nest, we must also remove from our hearts what is not good. We must convert and be purified so that He will be at ease there. It's the logic of love that leads us to purify ourselves, to prepare ourselves, to adorn ourselves in the Sacrament of Confession. We go to Confession simply and straightforwardly, because we really want to; because we love Him. We go to Confession because we want to adorn and prepare for Jesus a little home in our hearts.
There is, at the same time, a reciprocity of affections and friendship, as Jesus' love is merciful, poured out especially in our hearts in the Sacrament of Forgiveness, the Sacrament of Mercy. Let's take advantage of it! Let's not lose this beautiful and lovely opportunity! Let's let ourselves be loved by Christ, by the Love of Loves, a love that is so excellent that His alone is worthy of that name!  Let's let Christ's affection come in a very special way upon us, exactly as Christ does in the Sacrament of Confession! Let's let ourselves be spoiled by Him!
May She whom God most loved, the Most Holy Virgin, She in whom the Angels so admire the love of God, help us to enter this logic of love, this love, and let's let ourselves be loved by Christ, in this most precious logic of Advent and Christmas, in this purifying of our soul in the Sacrament of Merciful Love, in this fervent reception of Christ shining in the Sacred Eucharist, Sacrament of Love.
Images, Video or Audio
Images
Images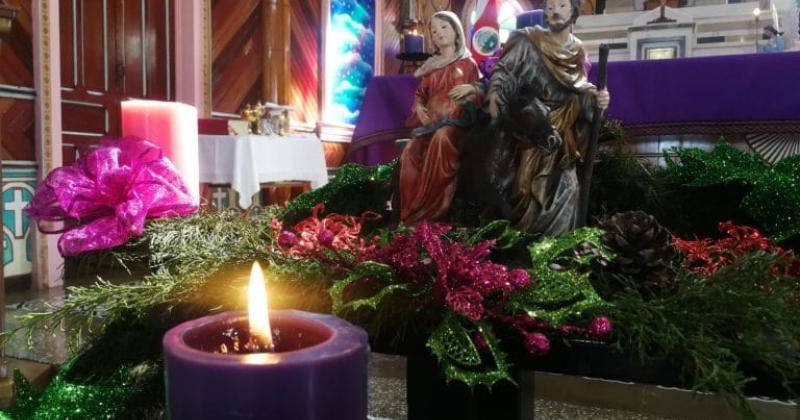 Source
José María Montiu de Nuix